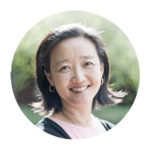 Hello.
About ten years ago, it occurred to me that my father's experience of fleeing North Korea as a war refugee in 1951 would make an interesting basis for a novel. Family history + research + imagination = completed novel. Easy peasy! Ha!
Since then, I've quit my job, gone to writing school, found a different job. Multiple drafts of the novel later, I'm much more realistic about the time, effort, talent, and dedication it takes to write a book. I'm humbled, but also more committed than ever.
In addition to reading and writing, I blog here about the rest of my life: work, faith, travel, photography, parenting, and the San Francisco Giants.
The formal stuff: I hold an MFA from Warren Wilson College, an MA in Theology from the Graduate Theological Union, and a BA in English from UC Berkeley. I've been awarded residencies at Ucross, Ragdale, and Hedgebrook, and am a member of the San Francisco Writer's Grotto.
The working title of my novel is The Letter Writer, the first chapter of which appeared in the Indiana Review.
Thanks for stopping by!